Latest Article
Alex Henry Foster recently released the song 'Lavender Sky' from his acclaimed debut solo album 'Windows in the Sky'. Louder Than The Music chatted with Alex in this extensive interview, to find out how it all began, what inspires his music, and the story behind 'Lavender Sky'. Make sure you read on for Alex's special announcement about his direct-to-vinyl live stream performance!

For those who haven't heard of you before, can you tell us a bit about yourself and how you got involved in making music?


I'm an artist and human rights advocate from Montreal, Canada. I grew up in different broken...
Read More Alex Henry Foster recently released the song 'Lavender Sky' from his acclaimed debut solo album 'Windows in the Sky'. Louder Than The Music chatted with Alex in this extensive interview, to find out how it all began, what inspires his music, and the story behind 'Lavender Sky'. Make sure you read on for Alex's special announcement about his direct-to-vinyl live stream performance!

For those who haven't heard of you before, can you tell us a bit about yourself and how you got involved in making music?


I'm an artist and human rights advocate from Montreal, Canada. I grew up in different broken neighborhoods where social services considered their residents as lost cases unworthy of any kind of investments, may it be time or money. As strange as it may sound, in those days, violence was more of a way to feel alive than a survival necessity. We had been marked by an invisible symbol defining us as products of broken homes, substance abuse, domestic tragedy subsidies, damaged community leftovers and generational waste of hope in other people's eyes… And while everything outside of the modest apartments I lived in felt like social war zones, my parents made art an emancipative dream-like reality at home, and both realities shaped me as the individual I am now.


Music has always been a part of my life, for as long as I can remember. My father introduced me to the only valuable possessions he had, which was a vinyl collection constituted of Led Zeppelin, Black Sabbath, Pink Floyd, King Crimson, Creedence Clearwater Revival, The Doors, The Rolling Stones, The Who, The Stooges, Muddy Waters and Jethro Tull, to only name a few. It was an epiphanic moment for me every single time my father would call me to share such an intimate instant with him. It's the fondest memory I actually have of him, I was able to understand how powerful and transformative music can be as I was discovering him through those records, as I was discerning who he truly was deep inside, from a song to another… it was very defining for me as a kid.

My mother on the other hand was into oldies; Elvis, Chuck Berry, Jerry Lee Lewis, Beach Boys, Ray Charles, James Brown… She would often turn Saturday mornings into a rock n roll duo dancing party. If music was intense and kinda dark for my father, it was a fun type of let go for my mom, all about laughter and shouts. It was a world away from the contemplative and communal instant I was experiencing with my father, even though it was a way for both of them to forget their distressing reality and constant struggles to survive. This had a tremendous impact on me…

It's only a little later, when I saw my friend's brother cover band play the likes of The Cure, Joy Division, The Clash, the Ramones, and The Jesus and Mary Chain in their basement studio that I would truly feel how uplifting music was. The loud sounds, the cohesion of the instruments, the emotional dimension involved in live music… And if my parents' love for music was the proper foundation for what would come next, the afternoon I had been hypnotized by a cover band changed everything for me, as if music was suddenly a personal affair. It was no longer a moment shared, it was intimate. 

And that intimacy led me to start different punk and hardcore bands in high school, skipping school to go see bands in all sorts of venues in Montreal regardless of being underage. I became some sort of fixture in every local bands' shows… Music has always been at the center of my life. I decided to form a band in order to use music to gather the divided members of an extremely violent neighborhood together when I was studying social work in university. Witnessing the incredible impact music had towards this community, totally abandoned by the educational system and rejected by social services, I decided to make that ephemeral band a permanent thing… and here I am today.

Tell us about your new single 'Lavender Sky' and what the inspiration behind it was?

It's a reflection of my late father, who was a complex and enigmatic person in so many ways. Even though I had the song's title for quite a while, it took me some time before I found the courage to write the lyrics. I became somehow haunted by that "Lavender Sky" image, as it was my way to describe the absolutely magnificent display of variations of purple, blue, white and pink sky I was so blessed to witness every single evening while living in Tangier, Morocco. 


Over the weeks, then months and years, this daily displayed lavender sky became for me a repeated invitation to release my father by not only accepting his death and finally be able to mourn him, but also to make peace with whatever disruptive moments I might have experienced in the past with him and admit to myself that, however complex of a lie I needed to believe to keep going without having to face my own ghosts, I would never be able to move on with my life until I finally acknowledged the profound sadness I fed my existence and held my loved ones hostages of. That was the lyrical starting point of the song; an honest acceptance.


In retrospect, it may sound like quite a pessimistic song, a bleak way to look at the world, a violent admission of faithlessness... But while honesty doesn't know cynicism and bitterness, I now see "Lavender Sky" as the acceptance of things we don't comprehend and therefore can't control, as much as an admittance of the illusions that make us who we are and keep us as human as the sky we keep on longing for in times of great need…

The song is taken from your album 'Windows in the Sky', tell us a bit about that.

It's the personal and introspective journey of the emotions I struggled and fought with while being in Tangier to mourn my father and to eventually face the damages of the sorrowful nature of the person I had become through the profound denial and illusions I had fed my heart with for quite a long moment at that time. What we know now as an album was initially a scrapbook I had tortured with thoughts, prayers, confessions, desperation, anger and bitterness… That book was my companion through the darkness I was in. I wasn't even looking for light nor for any reason to find my way back home. Living in the "absolute" prevents you from the freeing essence of faith, and I was hopeless, physically worn out after years of non-stop touring, but even more drenched out of any spiritual dreamful aspiration, even the most utopian of all… I was somehow awaiting a temporal death, especially as I hadn't longed for anything lifelike for so long…

And as my emotional wounds slowly started to get cleansed by my countless days spent writing in that book I would come to despise even more than myself, words would gradually start to become their own entities, would haltingly begin to carry their own burden and sorrowful measures, which eventually gave life to noisy type of resonances, then sounds, melodies, music and songs… They all represented the honest and raw journey at the end of my own night and beyond, but also surprisingly revealed a hopeful vibe, just bright enough to define the glazing morning I was no longer waiting for, an invitation of sorts, for salvation maybe, forgiveness, redemption, renaissance… It reminded me that life can emerge from the bleakest despair, that there's no shame in agony, no disgrace in glooming misery. A death wish is the confession of immuable absolute, never the honest scream, whisper, prayer of our anguishing fear of the unknown admission… 


That's the album for me; a dark yet luminous acknowledgement of what it means to be human. As the world strives to project the evermore artificial perfection pretense, "Windows in the Sky" is a celebration of life in the acceptance of its dreadful nature and the emancipative uplift of being honest with ourself, regardless of what it means, may it be the admittance of emotional self-destructive awe or the epiphanic incarnation of pure spiritual fulfillment. As long as it's real, the communal liberation and personal enfranchisement will take place. I do believe that… well, at least that's where I am in my reflection now…




What message would you like people to take from your music?

That it's ok to be whatever we are, that the incarnation of what we may be longing for doesn't reside in our capacity to convince ourselves that we "are" when we are not. That there's no need to pretend we know, to lie our way through enlightening bright light. That personal fulfillment doesn't reside in our vision of perfection. That freedom resides in the honesty of our condition. That there's no failure in the admission of our faithlessness, only the opportunity to redefine ourselves, to share our burden…

How would you describe your style of music and what are your influences?

Since my songs keep evolving with time, I would say that it's a stream of totally free and instinctive spirit. My influences lie within the complexity and fascinating essence of the human conditions, in my ever-growing interest in spirituality, transcendance and merciful grace. As for other artists' works, I appreciate the likes of free, uncompromising artists such as Glenn Branca, Lou Reed, Swans, Nick Cave, Sonic Youth, and Mogwai, to only name a few… I appreciate what feels honest to me. 


If you could work with any songwriter, who would it be and why?

There are quite a few names that come to mind, especially that I feel there are so many things to learn from others, not necessarily in the "technical" way, but in the nature by which they incarnate their art… their inspiration, what moves them… That's why I guess I would like to work with Nick Cave, as he appears to be limitless, beyond time, and stylistically free… There's a wonderful representation of human nature paradoxes in his work, not totally helpless and not totally divine… it's both darkness and light without being shadows.


How would you define success in your career as an artist?

Success for me as an artist is to always stand firm and fiercely against the temptation of becoming creatively indulged in whatever I may give birth to… The rest is totally elusive and a delusory type of ego-centric gratification for me…

What is your favorite album of all time?

That's a tricky one… My answer will change with my every mood when I'm asked that question… Yesterday might have beens something between London Calling from The Clash, The Ramones' eponymous album, or Never Mind the Bollocks by The Sex Pistols… But tonight, my answer is most definitely Songs of Love and Hate by Leonard Cohen.

You're stuck on an island, it's hot, you only have enough battery life left to listen to one song on your phone. What track is it?

Hallelujah by Leonard Cohen.


What does the next year hold for you?

I'm having a direct-to-vinyl live stream performance on the cultural hub BrooklynVegan's Facebook on July 26. I will perform 3 songs with my band The Long Shadows; "Snowflakes in July" and "The Love That Moves", 2 of the most personal and intimate songs featured on my album "Windows in the Sky", along with a brand new song. That live performance will mark the migrative point towards the end of the season that "Windows in the Sky" has been for me. I will then start working on my next creative project, may it be my second album or a book, I'm not settled yet… I want to fully embrace the July 26th live show before thinking about anything else… but I'm already getting obsessed with different words and themes, which for me means that something is slowly blooming in my heart and soul… so we'll see. And since you've been so generously welcoming towards me, I will happily keep you informed, my dear friends.
Listen
Video
News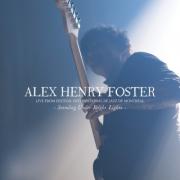 Alternative, post-rock's Alex Henry Foster impacts album sales charts worldwide with his live triple-vinyl / double-CD and concert film Standing Under Bright Lights following its release April 16. In its first week available at…