Mariette Davina - Volume 2
Artist:
Title:
Volume 2
Type:
Album
Released:
01 Jun 2020
LTTM Rating:
Readers Rating:
(1 vote)
Your Rating:
Review
Prophetic worship singer Mariette Davina returns with her first new full length album in nearly a decade with the release of 'Mariette Davina Volume 2'. Mariette has an emphasis on soaking spontaneous music. Her 'Volume 1' CD came out in 2011 and was followed in 2014 by her 'Deeper' EP.

Born in the United Kingdom, Mariette moved to South Africa at an early age. She obtained her Music Degree specialising in Performance Opera at the University of South Africa and was awarded two bursaries to do her Honours Degree in Music at the University of Pretoria.

We at LTTM first heard...
Read More
Video
Articles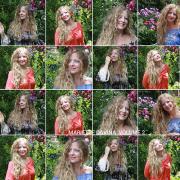 Check out the new music video from prophetic worship singer Mariette Davina, playlisted on GodTV. Here is 'Jesus is' from her new album Volume 2.