Louder Than The Music is pleased to be able offer extremely competitive prices for our online advertising scheme. Placing an advert on LTTM is both cheap and easy, and we can have your advert up and running in a very quick time frame.
We offer a range of different advertising options, and can be flexible to your exact requirements.
Contact us to arrange an advert now!
With 45,000 page views per month on LTTM and 130,000 unique visitors per year, your advert will quickly be seen by a wide range of Christian music fans and industry insiders. LTTM has a global audience and attracts fans of many different genres and demographics.
We have over 12,000 people on our mailing list from all over the world, with the majority being from the UK & US. We can send a direct mail out to our mailing list, containing entirely your content. You can either supply us with an HTML email to send for you, or we can create an email for you.
Banner Ad
up to 900px wide x 100px high, GIF or JPEG, on frontpage
£20/$25 per week
Rectangle Ad
up to 300px wide x 250px high, GIF or JPEG, on frontpage
£30/$40 per week
Mail Out
Dedicated email, with your content, to our mailing list
£70/$90
Article
Sponsored article/blog with your content
£116/$150

Example advert placements on LTTM frontpage: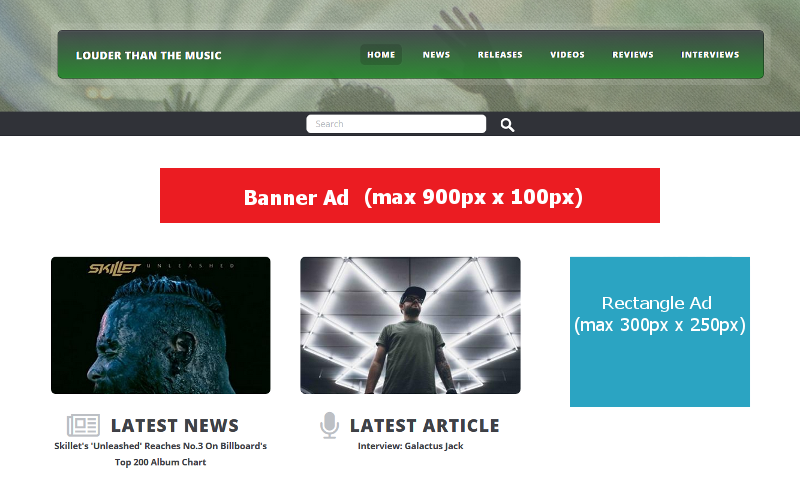 More Information
Banner Ad
Rectangle Ad
Website adverts will appear on the front of our site for the duration of the period you pay for. The advert will also appear on any page within the website that is specifically about your artist (eg News or Review pages) if applicable.
Mail Out
Mail Outs are emailed to over 12,000 people on our mailing list. We can design the mail out for you and send you a copy for approval before it goes out to the mailing list (see a couple of examples below).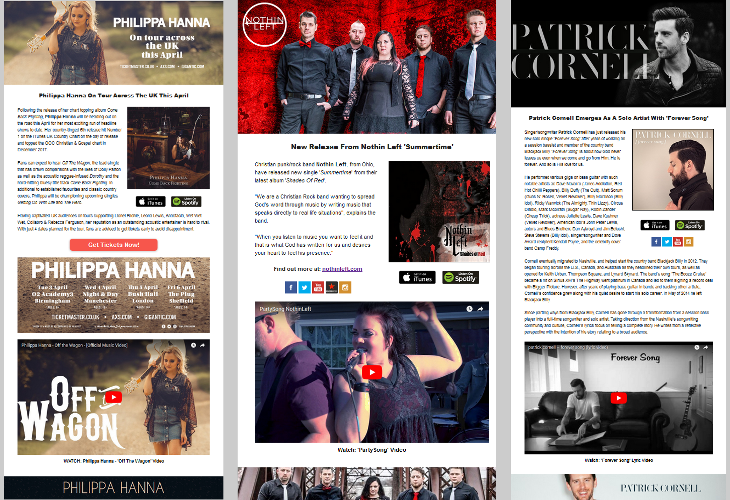 Article
For a sponsored article, you supply the content (eg an 'about' blog introducing your artist or event) and we will publish it on LTTM. The article will be included on the front page of the website for at least one week, and then available permanently within the site and reachable by our links and via search engines.
You can pay for your advert via direct bank transfer or PayPal.