Jan 19 2012
British hip hop band LZ7 have joined forces with worship leader Matt Redman to write the song '27 Million' for the A21 Campaign, which is committed to combating the injustice of human trafficking. At first glance it may sound like an unlikely combination, but as these artists prepare to release the single worldwide, LTTM caught up with LZ7 singer Lindz West to find out what they hope to achieve.

LZ7 have joined up with Matt & Beth Redman for a new song - how did that come about?

Matt and Beth approached me for a track to use in school lessons on an urban vibe about trafficking. None of us realised the potential of the track and what a buzz it would form.

Can you explain what the song is about?

Its called 27 million as a representation of the estimated 27 million trafficked and enslaved people across the globe. It's the journey of a girl who gets trafficked through Europe to London, based on a real life story.

Why is it important to you to be involved with the A21 Campaign?

A21 stands for the abolishment of injustice in the 21st century. It's important to make a stand about injustice as Jesus came to set the captives free and I reckon it's good to be a voice for the voiceless.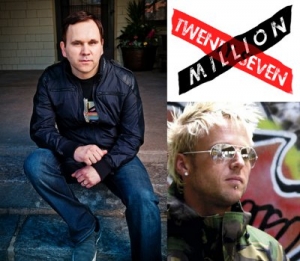 The kind of music that LZ7 make is quite different to the songs Matt sings - some people might be surprised to see you recording together?

That's the beauty of it... a fusion of two totally different genres... but it really works!

What do you hope to achieve with the '27 Million' single and when can people download it?

February 27th it's released into the mainstream, worldwide, and I would love to see it really get this slavery issue out into the mainstream under the noses of people in power so they really have to do something about it.

You had some chart success in 2010 with your 'This Little Light' single, do you think this new single can go even further?

This Little Light was an amazing journey and I think this is the perfect next step. We were talking about people shining by doing something good for someone else... 27 Million is a great follow on from that and is so on our heart!

What else have LZ7 got lined up for 2012?



We are just about to go on tour in New Zealand, Parachute Festival is gonna get heap loads of LZ. We are all over Europe at festivals and in and out of school across the UK and Europe. Writing a new online discipleship resource for new Christians as we have seen nearly 12,000 responses to the gospel on the LIGHT tour, there is a definite need for something to follow on.

We have set up our own charity/enterprise called LIGHT that's set to push more artists, including LZ7, into the mainstream, run events, promo, maybe bringing some artists over from the US and up the evangelism across the world... and wait for it... writing and releasing the next LZ7 album including more singles... got a massive year on so please pray for us if you can.

To find out more about A21 visit TheA21Campaign.org


Keep checking back on LTTM for all the latest news on the '27 Million' single!