Worship Central - Tim Hughes & Ben Cantelon
Last modified: 04 Mar 2013
LTTM chatted with Worship Central's Tim Hughes & Ben Cantelon to find out about the new live album 'Let It Be Known', and to get their thoughts on worship music.
Tell us a little bit about the new Worship Central album 'Let It Be Known' and what the inspiration behind it was.
[Tim]
We're really excited about this new project. The inspiration in many ways is that we believe as followers of Christ we have a message to share - good news to bring. There's a hope, there's a chance to find life in all it's fullness, there's a God who saves and his name is Jesus! A lot of the songs hang around the life Christ brings - songs such as 'The Cross Stands,' 'Guardian,' 'The Same Power,' and 'Draw me Close.' There's also a prophetic element in the songs in terms of calling out what we believe our generation should live for and what we long to see God do in our time and in our lives. 
Which is your favourite track on the album and why?
[Ben]
I'd have to say 'Our Generation'. I love the passion of the crowd in this song. It get's me every time and I think it's proof that there is a generation today that wants to see the nations changed for His glory and fame!  
This is the second live album from Worship Central now, do you think this type of album is better suited than a studio album?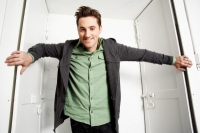 [Tim]
We love recording live albums. There's something raw and alive about singing these songs with thousands of people joining together. We may do a studio album at some point, but for now we're excited about capturing live worship. We feel we're only just getting going!  
The previous album, 'Spirit Break Out' had an incredible impact on the charts - did that surprise you and is it something that you hope will be repeated with this new album?
[Tim]
It was a great surprise and encouragement. It would be amazing if it happened again with 'Let It Be Known,' but ultimately that's not the goal. The charts thing in some ways can be misleading. For us we're keen that this album ignites people and churches in their worship. We get excited about seeing these songs being used all over the world as people respond to God in worship. We hope this album will be a great encouragement to many.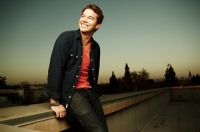 Worship Central's music draws on many different songwriters and musicians, is it hard to gel those different styles and opinions to make a cohesive album?
[Ben]
Not really - That is the great thing about writing together in community. We are all in this together and everyone brings something unique and of themselves to the table, which I think contributes massively to the songs. There are times when we have to work things out, but at the end of the day, it's about making sure the songs as strong as possible.  
Can you describe your song writing process?
[Ben]
We'll come together as a group a few times a year for 2-3 days and we'll play some song ideas that we have been working on. From there we will break up into groups and work on some of the ideas. Then we'll come back together at the end of the day and play the songs that we have been working on and get input from the rest of the team. Then from there, the groups will meet up on their own time and try to finish the songs. Hopefully we get a few that we can try in church, that is the real test!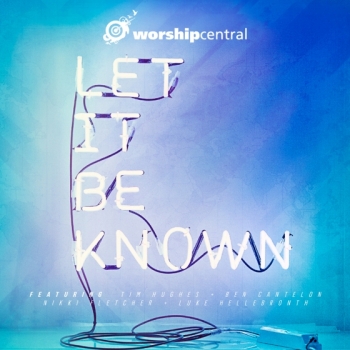 In your opinion, what makes the perfect worship song?
[Tim]
I believe there's no such thing. If we become formulaic in our approach to song writing we will end up with lifeless songs. Great worship songs flow from passionate lives of worship. Sometimes I fear we over analyse everything. Perhaps that's why there's not always a ton of diversity in our music. I'm keen, and we're trying, to write from the heart with confidence and abandon. Then we can try the songs out and see how they connect. With the song 'Let It Be Known,' it feels quite different for us in terms of the sound and arrangement. I remember the first time I led it thinking this could really tank! I don't think I've ever been so nervous introducing a song. So far it seems to really connect, but it made me think that we need to be more bold and courageous in the type of music and songs we use.
What advice would you give to any aspiring worship leaders or songwriters out there?
[Ben]
I think the most important thing for any aspiring worship leader or songwriter is to have a heart that is willing to learn and to grow. I think the best writers and leaders are those who value others opinions and advice and don't get stuck in their own ways. Have an open heart and mind!  
Worship Central seems to be going from strength to strength, which aspect of it are you most proud of?
[Tim]
I love the fact that it's a bunch of friends serving together. I'm sitting in Durban, South Africa, where this amazing man, Mark is running with the vision here. He heard what we were doing, came to a conference in London and is now gathering hundreds of worship leaders from all over the country, encouraging them and envisioning them to join in with the vision of Worship Central, to encounter God, equip the worshipper and empower the local church. It's amazing what's happening here now! The church here is owning the vision and running with it. That really excites me. Imagine the impact that could happen if different worship leaders, from different nations, ran with the vision!  
Which Christian album first got you interested in Christian music?
[Tim]
For me it was the Vineyard music - Touching the Father's Heart.
[Ben]
I love anything by Smitty, aka Michael W. Smith.
Which other albums or artists are really impacting your life at the moment and why?
[Tim]
I've been blown away by Emeli Sande. Her songs have such emotion and seem to capture so much of where people are at. She seems to be singing for people, rather than at people.  
What does the next year hold for Worship Central?
[Tim]
We're totally pumped for the Worship Central Course. So far 1400 courses are being run in over 60 nations, but we want to see this explode. We're currently filming the course, so the sessions will be between 20-25 minutes long and will be available on our website (
worshipcentral.org
) for people to use for free. We hope this will make it even easier for people to run in their own context.
We also have our conference in November 1-2, at Westminster Central Hall. So far Brian and Jenn Johnson from Bethel are coming over and we have a bunch of exciting plans which we'll announce shortly - but I don't think I've felt as excited about a conference as I do about this one. God is really stirring something up and we'd love to see worship leaders and teams gathering together to meet with God and to be empowered to serve him.
Find out more at worshipcentral.org