Featured Artist: Sanctus Real
Oct 01 2015

Before the members of alt-power rock band Sanctus Real began to craft songs for their latest album on the Sparrow label, they had already settled on the album title and the theme of the record: The Dream. A genre-stretching, introspective work of mature artistry, Sanctus Real's seventh offering, The Dream, was born of a well-honed collaborative chemistry and a shared epiphany about what kind of dream is truly worth pursuing.

"The realities of the music industry can make or break you if you live by them," explains Sanctus drummer Mark Graalman. "We've been doing this for so long. We've had our successes, but the industry is fickle and there's always that pit in your stomach that you're not doing well enough, that you're not going to be able to maintain the level you've reached. We finally came to a place where we started asking each other 'Why is it such a struggle? Are we letting some of those dreams we started out with become too important? Are we okay with it if all our success goes away?"

"We started to see a little more clearly what were our own dreams as opposed to what God's dream was for us,' adds singer and guitarist Matt Hammitt. "If all the good longings of our hearts - to be creative, to artfully express eternal truth, to tour and share those things with people - if all those good dreams come from God, if He is the source of those desires and the one who brings them to fulfillment, then maybe we've been looking at everything wrong. Maybe God himself is the Dream. Maybe the pursuit of our Creator is the only thing that can satisfy what our hearts are deeply longing for. It was from that realization that this body of songs emerged."

Sanctus Real has racked up plenty of accolades over their career - eight #1 songs, seven top 5 singles, two Grammy nominations, and album sales of more than 700k units. The difference this time around was that the band came to a place of recognizing how crippling it could be to measure themselves against their own or anyone else's past successes. Instead they began to see their art-making as one small component in the context of a much bigger dream. The Dream's first single, "Lay It Down," pulses with an energy and conviction that lays the thematic groundwork for the rest of the album. With crisp vocals layered over a bright, and unpredictable instrumental soundscape, "Lay It Down" invites listeners to have done with lesser things, that they might pursue what will last.



"'Lay It Down' is a song about surrender," Matt says. "During this season of reflecting on dreams, I realized I was carrying a lot of old hurts, insecurities, and some wrong ideas about God and people that were holding me back in ways. It seems too simple to just 'Lay It Down' at the Cross, but that's the call of Jesus, to simply come as you are and experience the freedom that comes with a childlike faith."

Recording for the first time in their hometown of Toledo, Ohio and in Matt's newly-built home studio, the band brought in producer Pete Kipley (MercyMe, Matthew West, Phil Wickham). Kipley pushed the band into new sonic frontiers, layering programmed textures over Sanctus Real's signature sound. At the same time, the more relaxed atmosphere of recording at home fueled a rejuvenated creativity among the band members as they wrote and experimented.

"When you make your first record," guitarist Chris Rohman explains, "everything is exciting. You're in a new town, in a real studio for the first time, recording those songs you wrote in your basement. But over the years the industry pressures build. It's easy to lose that early passion that you felt when no one knew who you were and you were just a kid pouring your heart out into these songs. After seven albums, I feel like we've found our way back to that place where it all began. Writing and recording The Dream, it felt like we were 20 again - pushing musical boundaries, feeling that passion for the craft. I think we came to a place where we let all those industry pressures go, and found ourselves enjoying a freedom in the creative process that we hadn't felt for years."

"Songwriting has been this band's primary passion since the beginning," Matt confirms. "Being on the road so much over the years has made it very hard to have the time we needed to focus on writing and making an album the way we wanted to. In writing and recording The Dream, we were able to invest more time into the process. It really took us back to our roots and rekindled our original passion for the craft."

That more relaxed creative approach yielded immediate results. Song after song poured from the Sanctus writing sessions and the project concept quickly solidified. One of the band's favorites, "On Fire," emerged as a soaring, heart-wrenching entreaty, an invitation calling listeners to remember and return to the passion they experienced when they first pursued Christ.

"'On Fire' was written after a season of feeling distant and isolated from God, friends and family," Matt says, "I asked God to renew the passion I once had for life. I stayed up that entire night, and by morning, the song 'On Fire' was finished. It was written out of a true spiritual awakening, and I hope that the simple yet heartfelt words of that song help others find an awakening too.

Other standout tracks range from the 80's textures and danceable power-pop of "Same God" to the upbeat, forward-leaning anthem "Head In The Fight," to the melodic and textural complexity of the title track "The Dream." But all are bound together by the album's central theme.

"It was a new thing for us to have a conceptual theme in mind from the beginning," Matt says, "this theme of God Himself being the ultimate and only dream worthy of our passion and pursuit. You'll hear common language throughout the record, as that theme weaves through every song. We tried to echo the idea of a central theme sonically as well, by tying songs together. We wanted it to feel like all of the music and all of the words were pulling in one direction."

From the outside, it might not look like releasing their seventh album has changed much for the hard-touring, veteran band. But from the inside, the members of Sanctus Real see this project as both a turning point and a major milestone for them.

"I think the bottom line of where we are now," Matt explains, "and what the songs on The Dream are about - is summed up by saying that throughout our careers together, we've chased a dream or two and have come to realize that the greatest of them are not the ones we've relentlessly chased, but the One relentlessly chasing us."

After a 20 year history together, GRAMMY nominations, Dove Awards, seven albums and six No. 1 singles, Matt Hammitt, the lead singer of Sanctus Real, has announced he will be leaving the band this December.

"There isn't nearly enough space to recount or describe what I've experienced with my friends in Sanctus Real over the past twenty years", writes Matt Hammitt. "I'm so grateful for what God has allowed a few guys from Toledo, Ohio to experience together. I don't take it lightly, the ability that songs have to impact the hearts and lives of those who hear them. Experiencing this God-given mystery with my friends in the band has been one of the greatest joys of my life.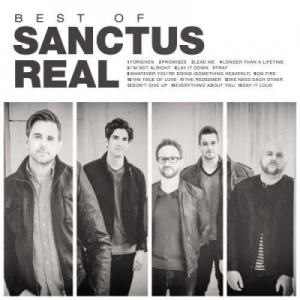 I want to thank my band mates, current and former, but especially Mark and Chris for allowing me to share in this incredible season of life with them. And of course, to our families, you are the backbone God has blessed us with. Thank you for holding down the fort. I love and appreciate you.

Over the past few months, I've felt the Lord calling me into a new mission field, into a new season of life. If you want to hear the intricate details about my decision to leave Sanctus Real, I've discussed it at length in the first two episodes of my new podcast "The Lead Me Lifecast." I open each episode by saying that, "I've been traveling far and wide singing the song 'Lead Me', but now I want to sing it less and live it more." I mean that genuinely, with all of my heart. I've always struggled to reconcile my life on the road away from Sarah and the kids, but after all these years I'm now confident that my calling is to be at home more, consistently making God and family my ultimate priority. My primary gifting as a communicator is simply sharing my life and heart with people, and they're going to get the best of that."

Sanctus Real will unveil Best Of Sanctus Real, their last project with lead singer Matt Hammitt, on October 9, 2015. Featuring 14 of the band's top hits over their 20-year career, the compilation also includes the newly released single "Longer Than A Lifetime."