Blog: Plankton Records Celebrates Forty Years
Mar 06 2019

Independent UK Christian record label Plankton Records have recently been celebrating an impressive 40 years of releasing music. As long term admirers of their work, we invited them to write a guest blog for LTTM to tell their story.

My name is Keith Dixon and I'm a partner in a very small record label called PLANKTON RECORDS. With 2018 now behind us I've had time to look back and reflect on the year which was certainly a year to remember for us. The reason for that is it marked our 40th anniversary of being a record label and we are pretty sure that we are now the oldest surviving independent Christian record label in the UK.



So let's go back to where it all started - May 6th 1978 - with the release of the album "Mirrored Dreams" by the band SEA STONE who were led by singer, guitarist, songwriter and founder of Plankton Records, Simon Law. It may seem hard to believe now when you listen to songs from the album but the big/established Christian record labels at that time rejected the album because the music was too 'secular' - remember, this was 1978! It was also rejected by mainstream labels because they thought the lyrics were too religious! So Simon decided to take things into his own hands and set up the record label primarily to release the album. 1,000 LPs were pressed and sold at the band's many gigs and the profits ploughed back into the label. And that's how the journey began. Copies of the original vinyl LP are much sought after by serious record collectors today with people paying £100+ for a copy in mint condition. Those of us who can't afford these prices can listen to the album on your favourite digital music site/platform.

For the next few years releases where limited to a 7" single and a 7" EP both by SEA STONE and recorded and released to fulfill demand for new music with the band playing regularly across the UK at churches, schools, prison, theatres… anywhere and everywhere! Then in 1982, following initially meeting on a mission in Hull, Plankton released its next artist PETE WARD - Pete went on to release 5 cassette EPs in the 1980s and played on the mainstage at Greenbelt. In the early 90s he released a mini album as part of the duo called TREVOR SPEAKS and today Pete is a Theology Professor at Durham University!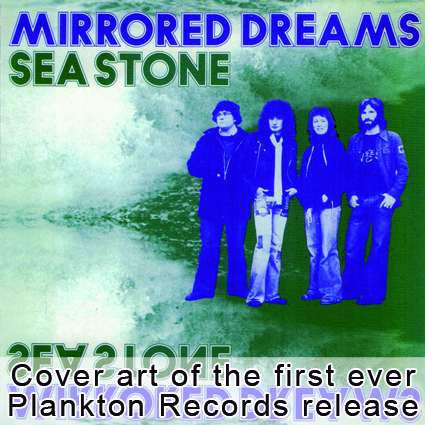 During the 1980s Plankton partners came and went and the label released music by several artists it met at the Greenbelt Festival, where Simon was heavily involved with the planning and running of The Fringe area. He also ran the Musician's Advice Tent which sold all of the available music of the artists performing on the Fringe.

Then in 1988 a very important thing happened - Simon met ME for the first time! I was working as a sound engineer/manager for a band called (at that time) "Against The Tide" and we played several gigs with Simon's (then - and still) band FRESH CLAIM. Simon encouraged us to play at the fringe on Greenbelt which we did two years in a row. By the second year we had a new singer and lead guitarist and we were called MEDALS and it was at the second festival that serious talk about the band recording with Plankton really started. In 1990 we released a six song mini-album on cassette called BLUE BLOOD. Not long after that I suddenly got made redundant from my job and to tide things over I started doing self employed work as a painter and decorator.

Simon asked me if I would do some work at his house (which was also Plankton HQ) and as the weeks passed I spent less time decorating and more time in the office with Simon to the point where he asked me if wanted to start working with him for the small charity that was tied with the record label. The charity was called the Wavelength Trust and its brief was 'to promote and encourage the Christian faith'. I of course said yes and in 1991 I became a partner in Records and not long after that Simon and I were the only partners and that is how it has remained for over 20 years to this very day.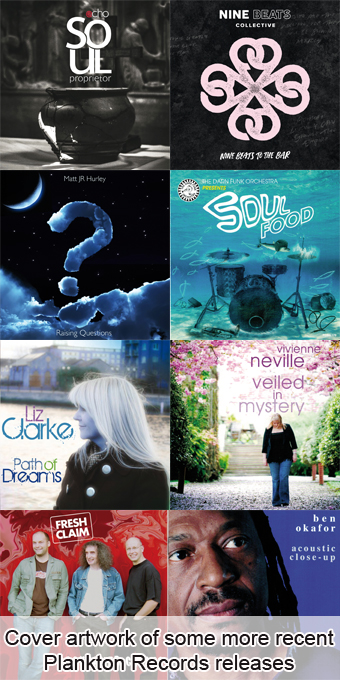 During the 1990s the label carried on it's association with the Fringe at Greenbelt (until Greenbelt axed the Fringe) and releasing albums by the likes FRESH CLAIM, BEN OKAFOR, OUT OF DARKNESS and MARC CATLEY & GEOFF MANN to name but a few. With both of us working full time for the label and the charity travelling the country working in schools, prisons and on missions, bringing in Simon's band FRESH CLAIM (and others) for concerts etc we were very busy indeed.

Things changed in 1998 - our 20th Anniversary as a label - due to a change in church law, Simon was able to fulfill a long held ambition and was ordained as a curate in the Church of England - he is now Rector of the Parish of Pitsea with Nevenden in Essex which includes St Gabriel's and St Peter's churches. With Simon's ordination, I took over the day to day running of the label which I still do today. With Simon's ordination, our charity folded and I went back into full-time employment and had 2 lengthy periods working as the Operations Manager for a children's audio company creating and supplying CDs & DVDs to major UK high street retailers and a year of running the music manufacturing division of ICC, overseeing all CD, cassette and DVD manufacturing. Then I went fully self-employed again and set up the music aggregation service (digital distribution) called Doxmedia which I still operate today alongside Plankton Records.

All this time I was running Plankton Records in my spare time. As you'd expect, the output level fell and for a 5 year period we didn't actually release anything new. Then in 2006 I thought it was time to get things moving again and since then we've released music by BEN OKAFOR, THE MOHABIR SISTERS, FRESH CLAIM, VIVIENNE NEVILLE, LIZ CLARKE, ECHO, DISCIPLE MAKERS, THE DARN FUNK ORCHESTRA, MATT JR HURLEY and NINE BEATS COLLECTIVE. Alongside this, for the last 2 years I have also worked part-time for local charity 'Newham Youth for Christ'.

The overriding factor of all that Plankton Records has done and still does is supporting artists who are keen to get out in front of people and communicate something of the Christian faith and/or comment on the world in which we live through their music. We are not, and never have been, in it for the 'fame and fortune' - it has and always will be about the message behind the music. And the style of music has never been important. We've released rock, pop, reggae, folk, choral, celtic, children's, acoustic singer/songwriter funk, soul and even satirical music - it's always been about the artist and their desire to communicate. We've intentionally tried to stear clear of worship music (but not always) as we know there are plenty of labels and people devoting more time and energy to this area and doing a better job than we could.

So 2018 turned out to be a brilliant year for Simon and I as we were working together more closely again - its all about team!. We planned and staged a special 40th Anniversary Celebration Gig in East London which featured 4 of our great artists for a very diverse evening of music. Not only only did we host this special evening but also we also compiled and released TWO new albums to celebrate this milestone year which included Simon recording a brand new song which turned out to be his first ever solo single!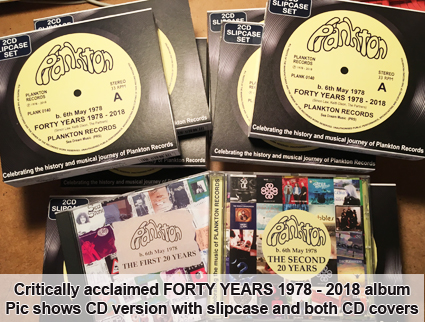 And I'm delighted to say that the albums, especially the FORTY YEARS 1978-2018 double album (CD & digital) have been wonderfully received by critics and reviewers alike and we've had some very kind and affirming things said and written about us. I (and also with Simon on one occasion) have also been invited to several Christian Radio stations for extensive interviews and/or to record special programmes totally dedicated to Plankton and our 40 year musical journey - for all of which we are so grateful and appreciative. This includes big thanks to Dave right here at Louder Than The Music. I'm actually writing this blog at his invitation, as he wanted me to share something of our story in my own words. Louder Than The Music have always been great at reviewing all of our releases and posting news articles about our artists too. This is so valuable to us as such a small label and as I always say to Dave we don't take their support for granted. We are all in this together!

If you've never encountered any of Plankton's releases or artists before then we'd love for you to have a dip into our catalogue. We are always happy when people discover our music and artists! The previously mentioned FORTY YEARS 1978-2018 might be a good place for you to start. Most of our releases are on every major digital music site and CDs (plus some vinyl) are available from our website (where you can also listen to song excerpts)

Thank you for taking the time to read this blog Finally, on behalf of Simon and myself, as we look back on our 40 year journey I'd like to thank God and His son Jesus Christ for... everything! Here's to the next 20 years.