Video: Lauren Daigle
Rescue (Chill Mix)
Nov 02 2019
The official audio video for Lauren Daigle's "Rescue" Chill Mix.

Other Videos
'Graves Into Gardens featuring Brandon Lake' live from the album, 'Graves Into Gardens' by Elevation Worship.
Here is the Official Live Video for 'REND THE HEAVENS' by Rend Collective, busking on the streets of Dublin - taken from the new album 'Choose To Worship'.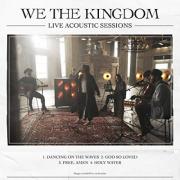 Check out the Official Acoustic Video for 'Dancing On The Waves' by We The Kingdom from their new 'Live Acoustic Sessions' album.