About
Welcome to
Louder Than The Music
, a website dedicated to all the latest Christian music news, reviews and interviews. LTTM is constantly being updated to bring you everything you need to know about Christian music.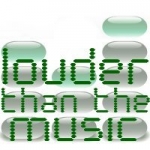 LTTM is based in the UK but aims to cover Christian music from all over the world. We feature articles about all the big name Christian bands and singers, as well as smaller, independent and lesser known Christian artists that people may be less familiar with. Our passion is to see good quality Christian music promoted well, giving music fans the chance to find out about great music and discover artists they haven't heard before.
The website is run by Jono and Dave, who have many years experience in various aspects of Christian music and websites, and was established in early 2009. Since then LTTM has been growing at a rapid rate, expanding in content and reputation. With 45,000 page views per month and 130,000 unique visitors per year (Google Analytics, Mar 2012) from all over the world, plus a strong following on social networking sites and a sizable mailing list, LTTM is continuing to become the definitive place to find out about Christian music.
Why The Name?
We took weeks to come up with a name we liked for this website. The name 'Louder Than The Music' is inspired by the classic Delirious? track 'Louder Than The Radio'. It's a website that is about music, but with a nod to something bigger, higher,
louder
than the music itself.
Artists and Labels
If you are an artist, or you represent an artist, and would like to send us news or albums to review, please get in touch with us via the
Contact Us
page. We are happy to feature both signed and independent artists, provided the music is of good quality and fits our ethos.
Find out more here
.
The Future
What you see at LTTM so far is just the beginning. We have some big plans for the future. Our main aim is to turn this website into an interactive community for Christian music fans. You can expect a forum to discuss the music with other people. A place to create your own profile so other people can find out about you. A chance to rate and review albums. The ability to comment on our news and reviews. Plus interactive polls and a whole host of other features.
If you've got any ideas, suggestions or comments please get in touch with us via the
Contact Us
page.
You can also follow LTTM on

Twitter
and become our friend on

Facebook
and

MySpace