Interview: Rend Collective
Mar 18 2014
Irish worship sensation Rend Collective return with their brand new studio album 'The Art Of Celebration' this month. LTTM caught up with the dynamic group to find out all about the joyful new release, plus touring on both sides of the Atlantic.

Tell us a little bit about your new album 'The Art Of Celebration' and what the inspiration behind it was?/ Can you explain the title of the album?

We had a kind of theological breakthrough as a band this year that sparked the concept behind the whole record: seriousness isn't a spiritual gift...but joy is! The album centres around the theme of choosing joy and celebration in all seasons and we tried to make it sound like that" to sound like fun.

Which is your favourite track on the album and why?

The album is designed to be experienced as a whole "it's a concept album" but if we were to pick out a track that captures the ethos it has to be the opener 'Joy'. I love that the first line of the album is 'we're choosing celebration'. Worship and celebration always begin with a choice.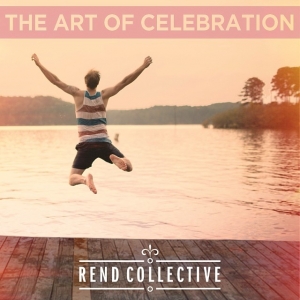 When we last interviewed you on LTTM, you said you hoped to make the new album your "wildest, most ambitious, boundary-pushing and worshipful record yet". Do you think you achieved that?

We think the biggest clue as to what The Art of Celebration sounds like is in the title. We tried to make it sound like fun. It's what the Psalmist calls, "a joyful noise."

Our process was to just choose the instruments that seemed like fun to us and let the genre definition work itself out. We use a bewildering array of the weird, wonderful, whimsical music toys that we're still not too old to love, our native Irish folk instruments, some good old-fashioned rock' n' roll guitars, and even some synth-pop inspired elements. (And it goes without saying that Gareth once again wields that awesome, homemade weapon of mass celebration we know only as "the Jingling Johnny.")

We haven't abandoned folk music, of course. It's a huge part of who we are (it would be like abandoning a limb!). But we haven't stayed there either - where's the fun in that?

You've spent a lot of time in the US lately, taking part in some really big US tours - has this been a concerted effort to 'crack' the American market?

We don't tend to think in terms of markets - we just want join in with what God is doing in the global church. However, as we enjoy our time in the US, worshipping with the church here, we'll always be drawn to our roots back home in Northern Ireland and look forward to being back this summer.

So you've got some tour dates back home in Ireland and the UK soon then?

We're back in the UK starting in May, playing a series of album launch dates for The Art of Celebration and we're also really excited to be back at Big Church Day Out again this year. Big Church just keeps gaining momentum and is one of our absolute favorite festivals.



Which other Christian artists have you been listening to recently?

Hillsong Young & Free and Phil Wickham's The Ascension come to mind - both albums have a real emphasis on singable, anthemic choruses and represent something fresh in church worship, even though the records are so different from each other. We're excited to go on tour with Phil Wickham in November in the UK... even though he is sickeningly talented and handsome and makes us all look bad!

In your opinion, what makes the perfect worship song?

As a band, we strong believe worship isn't just a sparkly pop soundtrack for the carefree - it's a desperate and costly offering of disciplined joy. In that vein, I think a well-crafted worship song will contain elements of pain and surrender, as well as hope and joy in a God who saves.

You're stuck on an island, it's hot, you only have enough battery life left to listen to one song on your mp3 player. What track is it? (and please don't say One Direction like last time!)

Joni Mitchell, Case of You. I think this is probably one the best examples of a singer-songwriter at the height of their game. She breaks all kinds of "rules" in terms of what a great pop song usually needs to be, but the result is genius. Albeit a slightly melancholy, broken-hearted kind of genius!

Find out more at rendcollective.com